Our Differentiated Approach
Our team drives growth and profitability through combining best practices from our long investment history, deep brand marketing leadership, and management expertise.
Brands are the reflection of how consistently a company delivers on its values and commitment to stakeholders. Our team has decades of experience building valuable brands – brands that you know – so that everyone involved, from our investors to our employees to our communities, benefits.
Deal
Origination
Leverage Sourcing Contacts and Established Partner Network
Due
Diligence
Proven Investment Strategy
Development of a Strategic/Collaborative Roadmap
Portfolio Management
Innovative & Valuable
Connectivity
Authentic Influencer /
Accelerator Engagement
Accretive Marketing Plan Development
Supercharged Growth
Portfolio Company Unlocks Maximized Value
Core Agency Relationships
At the core of BVG's marketing-focused value creation strategy are our deep relationships with both full-service and specialized agencies. These agencies complement our offering and provide our portfolio companies with a complete suite of marketing resources.
The BVG team has a long, storied track record of leveraging their vast networks in sports and entertainment to create accretive deals for their companies with athletes, teams, leagues, celebrities, and other businesses.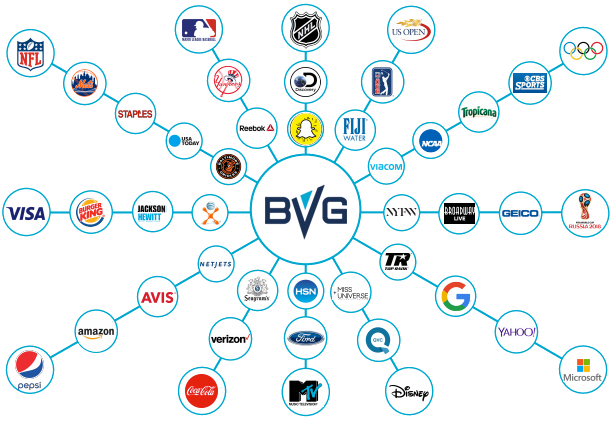 BVG Accelerators are diverse and dynamic leaders from areas such as marketing, innovation, operations, and finance. Accelerators not only understand the need for change, but also appreciate the platform for change afforded by BVG. Bringing a wide array of expertise and experience, our Accelerators deliver unique perspectives to BVG and its portfolio companies.
Senior Vice President and Chief Global Culture, Diversity & Inclusion Officer at Walmart Inc.
Ben Hasan
Ben Hasan is the Senior Vice President and Chief Global Culture, Diversity & Inclusion Officer at Walmart Inc. In this role, Ben and his team are responsible for the activation and strategic evolution of Walmart's culture; the development of behaviors that embrace diversity and inclusion at all levels; and the promotion of the company's external reputation as a great place to work.
Prior to joining Walmart in 2008, Ben worked 11 years at Dell Inc. where he progressed through several leadership positions before serving as Vice President of Corporate & Product Group Information Technology.
Before beginning his career, Ben earned a Master of Business Administration from Amberton University in Dallas and a bachelor's degree in business administration with a computer science concentration from Temple University in Philadelphia. Ben also completed the Advanced Management Program at Harvard Business School. Ben is a board member for several national and local organizations, including the Walmart Foundation; Catalyst Board of Advisors; Ron Clark Academy (Atlanta); United Negro College Fund; and Bentonville Area Chamber of Commerce.